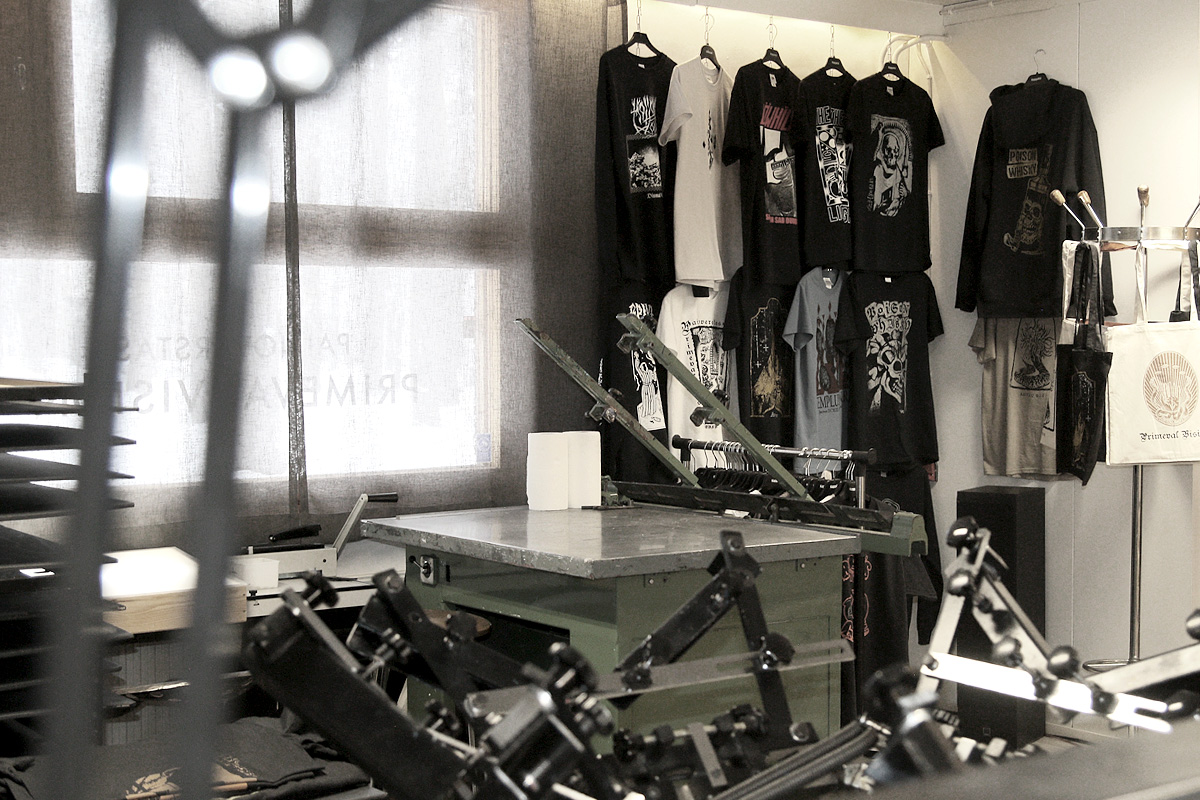 Primeval Vision DIY cassette cardboard covers: click thumbnail photos for more information about the used material. Our DIY packaging solutions are designed for those who want to carry out printing and packaging by themselves. You can order all the available covers from our webshop or via email.
SCREEN PRINTED CARDBOARD CASSETTE COVER:
50 pcs      130 €
100 pcs     180 €
150 pcs     250 €
200 pcs      325 €
The prices include one color screen print on one side of the cover. All prices include VAT 24%. Ask for VAT free prices! If you need more quantity or colors, get in touch!
Please, read our guide from the bottom of this page about how to prepare your graphic files for screen printing. Check below few previews of the covers we have printed:
---
HOW TO PREPARE YOUR GRAPHICS FOR CASSETTE COVER SCREEN PRINTING
1. Download the template for your artwork from here:
Design over the template and when you've finished, remove the template from your file. In case you send us a psd, ai etc-file you can also leave the template on the background, just make sure your artwork is on another layer.
2. Make sure your artwork is at least 300 dpi/inch. If your artwork is highly detailed 600 dpi/inch preferred.
All artwork should be sized to the dimensions you want to print.

Note: scaling up an existing design from 72 dpi to 300 dpi will cause your final artwork to be pixelatted. All artwork needs to be created in 300 dpi from the start.
3. Design each graphic layer to 1-color – no greyscales. Let us know the printing color(s) for each layer.
4. We print all our covers by hand. Here is something for you to consider before creating and sending us your artwork:
The mesh count we use does not allow us to print smaller than 8 point text. Try to avoid serif fonts, the fine ends often get lost. Sans type fonts screen print better.

Our manual screen printing method also requires some thickness in line widths – please, try not to go below 0,5 mm.
5. Accepted file formats: jpg, psd, ai, tif, png, eps, ai & pdf.
6. Submitting your artwork: files under 20 mb can be send to our email, please check our "contact" page for an email address. If it's a large file (20 mb or more), please send us a download link.
7. And finally: send your file to us with the following information:
You full name and invoicing/shipping address

How many covers do you need and in what color

which screen printing color(s) you want

Which payment type would you prefer (Paypal or EU bank transfer)
8. Terms: we have the right to cancel any order and refund all payments at anytime.
Our standard turnaround time is 14 days. We'll start production once we've received your payment, press-ready artwork, and have agreed upon the cover type and color. We work hard to meet the deadline for each and every order. However, if you have a specific date you need your order make sure to let us know right away.
We hope this brief guide will be enough to get you going. we are always available to assist you with your designs, so in case you require any further assistance, don't hesitate to contact us.